Carolina Panthers linebacker Luke Kuechly challenges Springfield Elementary 1st grade teacher Nikki Letterhoss to a dance off during a pep rally at the Fort Mill school. Springfield was named a NFL Play 60 Super School.
Almost 700 Springfield Elementary School students hopped, cheered, danced and screamed for Carolina Panthers players Steve Smith, Thomas Davis and Kuechly during an interactive NFL PLAY 60 pep rally and game show held at the school Monday.
Letterhoss was the clear winner: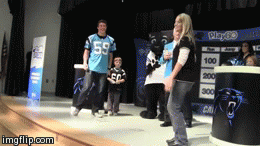 Subscribe to The Charlotte Observer.
The Charlotte Observer welcomes your comments on news of the day. The more voices engaged in conversation, the better for us all, but do keep it civil. Please refrain from profanity, obscenity, spam, name-calling or attacking others for their views.
Have a news tip? You can send it to a local news editor; email local@charlotteobserver.com to send us your tip - or - consider joining the Public Insight Network and become a source for The Charlotte Observer.
Read more
Read less